Christmas Horror Staples
It's the most wonderful time of the year for Santa or Krampus to go apeshit and kill people. Let's talk the best in Christmas horror.
1 - Black Christmas (1974)
Black Christmas has a cult following and recent re-appraisal by critics for good reason. This Canadian 70s slasher movie is like candy for horror fans. The beauty of Black Christmas is it came before a time when horror movie tropes were so cemented, and anything goes. It's warranted two (bad) remakes, this influential classic deserves a modern day watch.
2 - Silent Night, Deadly Night (1984)
The cult classic Christmas movie that just kept having sequels (which are all terrible but also great). This wonderfully 80s slasher shows the dark development of a serial killer through his traumatic childhood experience. It's unintentionally funny and offended many people, so of course it's high up on my list every holiday season.
3 - Rare Exports: A Christmas Tale (2010)
Rare Exports is a unique concept dipping into a Santa origin story set in Finland. We've got a deranged Santa excavated from his grave, and his even more deranged naked helper elves. It's a fun watch with dark, dry, witty comedy. Plus, you have to admit - Santa is already kind of creepy - this just cements that.
4 - Krampus (2015)
A cacophony of chaos featuring a dysfunctional family, sentient murderous toys, killer gingerbread men, and parents who seemingly couldn't care less when their kids go missing.
Read full review here
.
5 - Anna and the Apocalypse (2017)
A Scottish Christmas zombie horror comedy musical? Count me in. This movie is WAY too much fun, and will have you singing "Hollywood Ending" for weeks.
6 - Violent Night (2022)
A brand new killer Santa flick to add to the list - this is not a horror movie as much as it is an action dark comedy. Go hit the theaters to watch Santa stab people with a candy cane.
See full review here
.
7 - Christmas Bloody Christmas (2022)
Another slasher Santa movie, but this is more
Terminator
meets
Silent Night, Deadly Night
. Once you get past some annoying character dialogue scenes, it's full speed ahead with a killer animatronic Santa.
See full review here
.
8 - Jack Frost (1997)
This ain't your heartwarming adorable Michael Keaton Jack Frost story. This one actually came a year earlier and likes to be forgotten, but I won't let it happen. It's so bad it's good, and it's worth a rewatch every couple of years to remind you of how bad it is.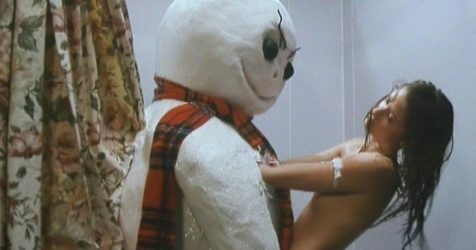 9 - The Advent Calendar (2021)
This is an unpredictable and fun French-Belgian movie with the coolest advent calendar I've ever seen. I wouldn't say it's worth a view yearly, but it's definitely worth a watch.
10 - Gingerdead Man (2005)
I feel like this movie needs no explanation. It's a 2/10 but also a 6/10. It's got terrible acting, nonstop baking puns, and Gary Busey as a cookie. Honestly, all you need is this picture: